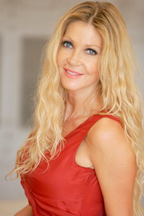 Leana Greene, founder and CEO of KidsInTheHouse.com, the Ultimate Parenting Resource website, is an experienced entrepreneur and businesswoman.
Leana started her first company in her early twenties which she grew into a multi-million dollar business, employing over 45 people. She was also active in the entertainment industry as a model, singer and producer.
After her children were born, Leana sold her businesses to focus on raising them. She developed a strong interest in education and parenting and began reading many parenting books and going to lectures.
She found the information extremely valuable but realized she, like many other parents, faced a problem...lack of time. So much good information was out there for parents, but reading all the books and getting to the lectures was proving to be a daunting task. That's when her dream to start Kids in the House developed.
Leana's goal was to create the ultimate parenting resource where parents everywhere could get quick, easy information from leading experts themselves. She wanted to provide this information in a fun and easy to understand format. She also wanted to structure the information so parents could get actionable tips quickly or spend time delving deeper into areas of interest.
After many of years of hard work and partnering with over 400 parenting experts and organizations from across the county, kidsinthehouse.com has launched. The website contains over 7,500 quick and easy-to-understand educational videos for parents of kids of all ages. It also includes parent-friendly features such as the ability to bookmark key videos, create video playlists to share with family and friends and a parent to parent community for sharing helpful tips.
When not working, Leana does volunteer work for her children's schools and the community, enjoys working out and spending time with friends over good food and wine. However, her greatest joy comes from spending time with her family, including her husband, Browne Greene, and their three children: Violet (13), Blue (10) and Teal (5). Together, they make up the "Rainbow Family."